Houston's Residential Moving Pros
New apartment, condominium or home? When you hire A-Rocket Moving and Storage for your residential moving needs, you gain the experience and excellence of top-rated Houston moving professionals. A-Rocket was founded right here in Houston 60 years ago, in 1959, and we've completed thousands of local moves and long-distance relocations over the last six decades.
Local Houston Moving Done Right!
We know residential moves come in all sizes and levels of complexity, from small apartment moves to single-family homes and larger estates. We've handled them all successfully because every move matters. At the end of the day, a worry-free move depends on the right blend of communication, planning, execution and friendly customer service.
We start by introducing you to your personal relocation consultant, who will oversee all details related to your move. If you ever wished you could clone yourself to get a job done right, you can relax…your consultant manages everything for you. Upon completion of a quick on-site survey, your consultant will furnish a comprehensive estimate within 24 hours.
A-Rocket facilitates every detail of your move. On moving day, our trained packing and moving staff will relocate your items to your new residence in a timely, professional manner.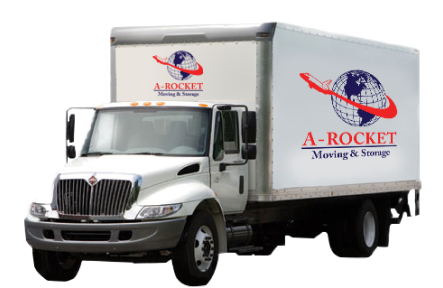 Residential Houston Moving Services Overview
Local residential
Long-distance household
Household packing & unpacking services
Household storage
Proper packing paper, quilts, padding and boxes
Trained, professional uniformed movers
Clean trucks with moving pads and equipment
One-story, multi-story or highrise
Furniture disassembly and assembly
Fully Insured
Complimentary moving quotes
Reasonably priced moving boxes and packing supplies
Courteous, professional and friendly staff
Convenient scheduling
Intrastate moves
Interstate moves
Our company's aim is always "Making the Customer #1." As a result, new Houston moving customers quickly become repeat customers. Their word-of-mouth has helped us become recognized as Houston's best moving company. Contact us to request a quote and experience the A-Rocket difference.
My apartment complex used A-Rocket to help us move in and they were so respectful, funny, and helpful to get all my things to the top floor with no complaints. They were quick and very gentle with my belongings. Would recommend to anyone. They were awesome!.
The move wasn't an easy one. The old house had 3 stories. The new house has a spiral staircase. Despite the difficulties, the crew did not damage anything, they finished ahead of schedule, and the final cost came out to less than the quote. I highly recommend A-Rocket for residential moves.
Using A-Rocket was the best choice my family and I made. Despite the stairs and all the mess we had they were able to load us and unload us faster than the time we were quoted. We really appreciate the professional staff at A-Rocket. I will refer everyone I know to this company. Thank you very much!