Secure, Affordable Storage Solutions
We know that your move may depend on a lot of variables…
Is the whole space ready on move-in day?
Are different offices or facilities going to be available at a later date due
 to unavoidable circumstances?
Is storage space and configuration at your new location not sufficient?
Do you need to consolidate storage as part of management of change?
If you're looking for a storage company you can trust, talk to a Certified Consultant at A-Rocket. We'll work out a solution to help you address both short-term and long-term storage needs.
You can rest assured knowing that every move – and every item – is covered by one of the most generous insurance policies in the industry.
What are your storage rates?
We don't publish our rates online, but contact us for a quote and you'll see that we offer the most cost-effective to store your goods.
Is there a minimum or maximum amount of time I need to sign up for?
We provide storage rates on a case by case basis. Contact us for more information.
Do I have to use A-Rocket for moving services inorder to become a storage customer?
As much as we'd love to work with you on your moving needs, it's not a pre-requisite to using our storage services. Storage is a completely separate offering, and our dedicated team of storage professionals would be glad to learn more about your needs.
Does A-Rocket prohibit certain goods or materials from being stored on-premises?
For safety reasons, there are some items that we don't accept in our storage facilities. If you have special concerns about items you wish to store, please ask.
How are items kept in storage secured?
You get the state of the art security you expect from a storage company. A-Rocket practices secure access and inventory control procedures to track the location of all storage containers. We also use state of the art monitoring services for any potential threats, including theft, fire and flood.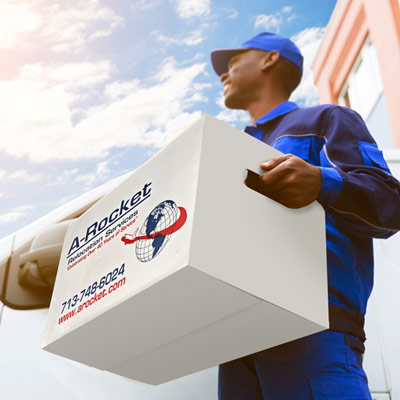 What can you expect from our storage service?
Firm Pricing, Guaranteed
Professional Disassembly and Assembly of Furniture & Fixtures
Furniture Restoration Services Available
Vault Pads, Monitored Alarms & Fire Prevention Systems
Restricted Access
Climate Control Available
Short-Term and Long-Term Storage Available
We know your household belongings and business records and equipment are important. That's why we palletize and protect your items in storage with our "Safe and Sound" guarantee. Contact us to request a storage quote and experience the A-Rocket difference.
Need a trusted Houston storage company? We can store your most valuable business assets, including furniture, fixtures, files, product and other goods in secure containers, protected by vault pads, monitored alarms and fire prevention systems.
Our modern 85,000+ sq. ft. warehouse storage facility offers partially climate-controlled storage space in central Houston.
A-Rocket Storage, where reliability meets affordability.
I've been working with A-Rocket movers for both my personal moves and medical commercial moves for over 10 years now. I have used their storage facility numerous times and I'm satisfied every time I use their services. If you need to move, call A-Rocket.